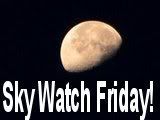 It's Friday again, and that means Sky Watch Friday! I love Fridays.
While I have plenty of sky pictures on this blog, my regular Sky Watch Friday post is on
my other blog
. Please visit me there. Thanks!
Feel free to look around here, too. A lot of my pictures could be Sky Watch pictures.